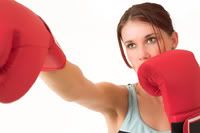 Kickboxing now attracts an extensive female following, as women now assert not only their financial but also their physical independence, Martial Arts gives them the ability to defend themselves, their children and their property.
Due to the demands of modern living people are increasingly aware of their personal well being and self development.  A popular way to improve your level of physical, mental and spiritual health is through martial arts.
The kickboxing classes taught at Limerick Combat Gym are far more intense than aerobics classes at a typical gym. This is a physical, gut-checking fighting class where you learn how to kick, punch & workout against a heavy punching bag.