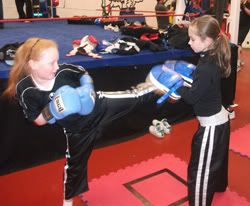 Give your child the belief to succeed
Children can benefit in many ways from practising martial arts, such as:
 Increased self-confidence and a sense of achievement
 Increased self-discipline involving setting limits, establishing consistent consequences and making positive behaviours a habit
Understanding the importance of respect for self and others and understanding that bullying is not to be practised or condoned
Increased level of fitness and flexibility
Improves social skills and interaction with others
Links well with schooling and complements extra curricular activity
Emphasises and develops positive relationships between teacher and student
Children learn how to defend themselves
Join the Limerick Combat Gym
Classes begin with warm-up exercises.
Once properly warmed up students learn basic co-ordination techniques and combinations.
Children  are in a unique growth period in their life. They are refined in their gross motor skills, while establishing a foundation in basic fundamental skills.
These basic fundamental skills include: focus, teamwork, control, balance, memory, discipline, fitness, and coordination. In any other sport of activity, all of these 8 skills are important to have. The more exposure to proper development in each of these skills, the better your child will be.
For this reason, we have tailored a  training course that increases the intensity of each skill at every level.
In the our kids Program, your child will train in an environment that is just right for them. They They will train with other children in their age group, and not have to be limited or overwhelmed by younger and older children. Each class will accommodate every student's skills and abilities in a way that is not overly demanding or intimidating.
That means more age-specific instruction with better results.
We guarantee it!